Frequently asked questions
Can Dental Hygienist work Independently?
---
YES, Colorado State Practice Act allows a registered dental hygienist to own and operate in a setting outside "the traditional " dental office.
---
What services can you provide ?
---
Oral health education Dental Hygiene therapy *Preventive *Periodontal Use of laser Therapy Aptheus ulcer & Herpetic lesions Desensitization of teeth Ultrasonics Fluoride treatments X-rays Intraoral photos Sealants Teeth whitening
---
What about an exam?
---
An exam is done at every hygiene visit. If some area of concern is evaluated, explanation and X-ray or photo will be taken. Then, a referral to your dentist or a recommendation will be made. All information will be forwarded to dentist of choice. ** it is recommended by the AMERICAN DENTAL ASSOCIATION that a thorough exam be preformed by a Dentist at least once a year. **
---
What about Insurance?
---
I am a fee for service provider, which allows me to keep costs down while offering you the most optimal care for your particular need without a third party dictating the minimal care offered to the masses. I will, however, provide my patients the form or instructions for your filing your insurance claim yourself. Patients will be able to easily file their claims online or a form can be provided for mailing. The insurance reimbursement will come straight to patient. For more information, you can view this PDF from the American Dental Hygenists Association, or visit https://www.adha.org/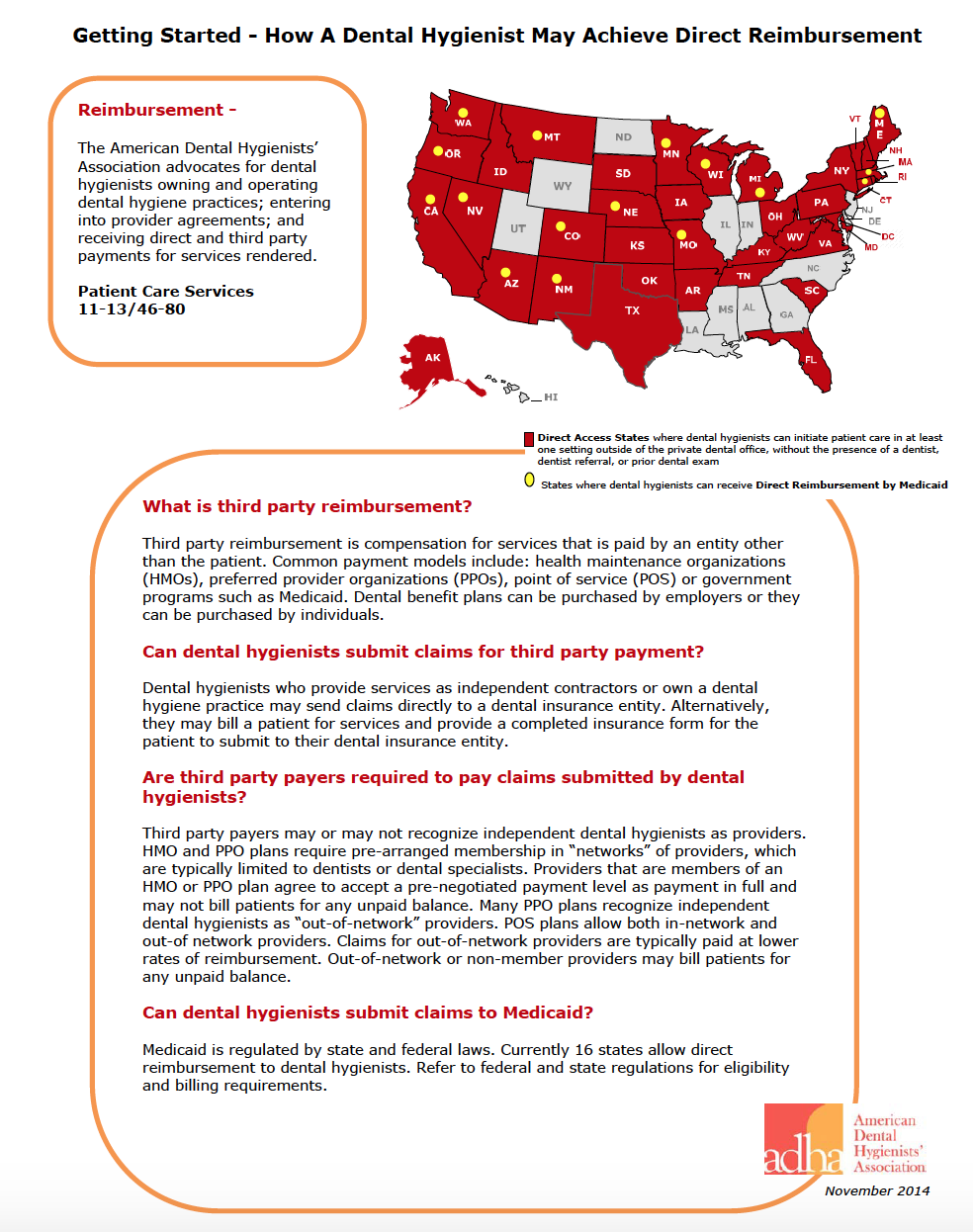 ---
What forms of payment do you take?
---
I take cash, checks, and credit cards.
---
What are your Covid procedures?
---
Before your appointment: -Pre screening questions will be asked 1 day prior to appointment. -At appointment, temperatures will be taken, hand washing station will be provided, a screening form filled out and signed. -Pre rinse preformed -Use of laser performed pre/post procedure After your appointment: -Fogging of treatment room -Window opened for air -At least 20 mins between all appointments
---
Why use Lasers & Ultrasonics?
---
Lasers: -Lasers help eliminate the bacteria that may be introduced into the blood stream. -Lasers help prevent cross contamination of infection. -Lasers increase blood circulation. -Laser helps with aphthous ulcers & herpetic lesions. Ultrasonics: -Improved outcome with this treatment. -Ultrasonics are technique sensitive, practitioner has better tactile sensitivity. -Reduces tissue trauma, less tooth structure removed. -Whole mouth disinfection. -Flushes toxins away from surrounding area of the tissue/tooth. -Promotes healing. -Future Positive appointments. -Decreases bleeding. -Decrease in periodontal pockets -faster healing. This is the type of laser I use. It is made and licensed by Epic Hygeine.
---
What is periodontal disease?
---
Periodontal disease is the destruction of surrounding tissues of the tooth. It is NOT reversible, can be stabilized is episodic in nature. It effects 85-90% of the population. Periodontal Disease starts with Gingivitis-red bleeding gum tissue, inflammation of the surrounding tissue of the tooth. Reversible if caught in early stage and change of care occurs. Perio/Gum disease contributes/causatives: -Inflamitory Issues -Heart disease -Diabetes -Cancers -Dementia -Joint musculoskeletal health -Metabolic Health -Pregnancy health
---
Why an Owl for your logo?
---
Owls are creatures of deep wisdom, intuition, and knowledge. The owl logo is intended to tie into my motto: "inspiring wellness through dental hygiene". There is always room to learn more about your dental health and how it effects your overall well-being.
---
How can I get in touch?
---
You can request an appointment by going to my "book now page". You can also scroll down to the very bottom of any page on the website and fill out the "contact me" form to send me an email. Futher questions? You can call my office at 719-510-6918. I look forward to working with you!
---
How do I submit an insurance claim?
---
It depends on what kind of insurance you have. Since every insurance is different, every group is different, every group plan form can be different. Here are some common dental insurance companies. Copy and paste the link into your navigation bar and look for "how to file a claim." You can also call your provider to get more information. Delta Dental: https://www.deltadental.com/ "Download the claim form for your Delta Dental plan. You can log in to your account to find claim forms. Complete the information on the form. Provide your detailed receipt from Candice that includes her name, clinic address and phone number." Cigna: https://www.cigna.com/assets/docs/Cigna%20notices-of-privacy-practices/dental-forms/forms_dental_claim.pdf BC/BS: https://www.fepbluedental.com/content/files/pdf/claimform.pdf Aetna: https://www.aetnadental.com/professionals/claim-submission-guidelines.html
---
Is submitting an insurance claim easy?
---
Yes! Here is a testimony from one of my patients: "I had dental hygiene treatment with Candice on a Tuesday. I mailed off my claim form and receipt next day. Received my portion of percentage of payment in approximately 5 weeks. I consider the length of time might have been because me filing my own claim was new to the insurance company. I will update my time when I do this again. It was easy and did not take much of my time to accomplish. I am grateful I can still see Candice and get great care." Regardless of insurance, it is always important to get your regular cleanings and take care of your holistic health.
---
---